WI Events
Sutton WI takes an active part in village life.
In June 2016 (the centenary year of the WI), Bruce Laughton, County Councillor and Jane Jefferson (the Nottinghamshire Federation County Chairwoman) officially opened the Sutton-on-Trent WI Garden. The garden, which commemorates 100 years of the Women's Institute in England, can be found on Main Street next to the bus stop. Local businesses and friends contributed generously, not only in raising the funds needed, but also with the practical help of both planning and executing the building of garden.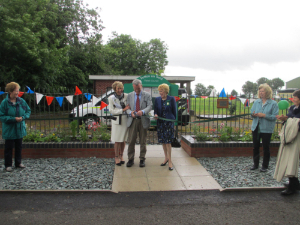 We recently put on a display at the Sutton-on-Trent Remembers WW1 Exhibition on November 11th which showed the role of women during the war and also images from the suffragette movement.
Also below is a photo of our scarecrow of Helen Watts, a Nottingham Suffragette which won the competition at the 2018 Sutton-on-Trent Festival.
Many congratulations to the Sutton-on-Trent WI Darts Team who won the 2019 Nottinghamshire WI darts league .
In the photo (l to r) are Kate Prichard, Sylvia Harness, Liz Mckendrick, Sue Greaves, Val Thurlow, Lin Tongue and their Captain Heather Blanchard.